With "ALDI TALK", the discount giant has been offering its own mobile phone tariffs since 2005. Of course, there can also be disruptions, problems and failures from the mobile network with "ALDI TALK" from time to time. Here we show you what to do yourself and where to check and report if the problem persists.
Note: Current fault (06/08/2022)
Today, Wednesday, the mobile phone provider "ALDI TALK" is struggling with reception problems. From 3:30 p.m. in the afternoon, the error messages piled up on alle disturbances.de.
Directly to the contact form of "ALDI TALK"
"ALDI TALK" is not only sold in Germany. In Germany, the networks of Telefónica Deutschland Holding are used, while in Belgium the BASE Company, in Austria Telstra and in the Netherlands KPN Mobile supplies the network. So if you don't have a network, you can also check whether there may be a fault with the respective network provider.
Problem with your own device?
Before you get the burning torches and pitchforks out of the basement and protest in front of the nearest ALDI branch, you should first rule out that the problem is not your own device or the settings you have made. Is it possible that your cell phone is in flight mode, are you in a dead zone and have you restarted your device?
If you still have an old smartphone lying around, you can also try whether the "ALDI TALK" SIM card works with it. In this way you can also rule out with certainty that a hardware defect or software problem on the current cell phone is causing the problem.
Order mobile phone accessories now from Amazon
Is there currently a power failure?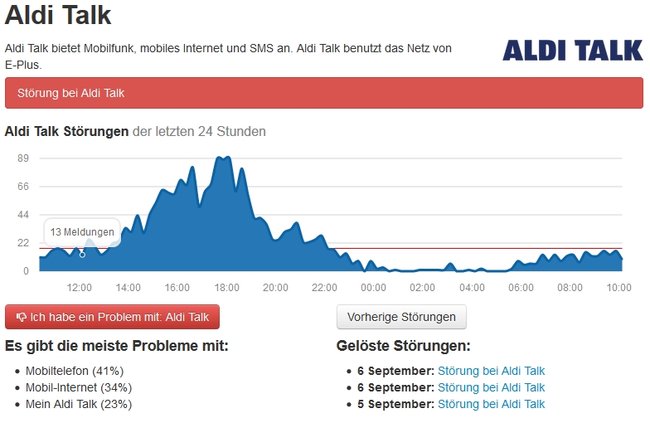 You can find out whether there are general problems with the network in Germany, for example, with the error message page alle disturbances.de. The exact data from the network provider is not tapped here either, but the incoming fault reports are displayed here. This often makes it possible to assess whether the respective provider is currently experiencing a general malfunction or network failure, or whether it is an isolated case or a problem with the company's own hardware.
You can use the Facebook comment function on the page to exchange information with fellow sufferers who may have been able to get more information.
customer service
If it's not the cell phone, you should contact the "ALDI TALK" customer service. Since there are no direct branches for the mobile offer, contact is only possible by telephone and online. We have summarized the contact options for you here:
Hotline
Cost
service times
From the "ALDI TALK" network
1157
49 cents per call

07:00 – 23:00 (Mon – Fri)
10:00 a.m. – 6:00 p.m. (Sat & Sun)

From other networks
+49 177 177 1157
Depending on the tariff (call to the E-Plus network)

07:00 – 23:00 (Mon – Fri)
10:00 a.m. – 6:00 p.m. (Sat & Sun)
If you're not necessarily the talkative type, you can of course simply use the contact form on the official website or send an e-mail directly to [email protected] with your request.
Don't want to miss any more news about technology, games and pop culture? No current tests and guides? Then follow us on Facebook (GIGA Tech, GIGA Games) or Twitter (GIGA Tech,
GIGA Games).