North America is expected to lead the number of 5G connections in the next five years, with ninety percent of the 5G connections expected by the end of 2027. With this forecast comes Ericsson's latest report (NASDAQ: ERIC) Mobility Report, which also predicts that by the end of 2022 a global milestone of one billion subscribers with a 5G connection will be surpassed. The Outlook for 2027 also states that 5G will account for 82 percent of connections in Western Europe, 80 percent in the Gulf Cooperation Council region and 74 percent in Northeast Asia.
Fresh right out of the oven! Our latest Ericsson Mobility Report June 2022 is here with some very interesting insights: e.g. 60% of global mobile network data traffic expected to be on 5G networks by 2027
Download and read it here: https://t.co/9EJuhpoxcb https://t.co/LQb6Ykbrom

— Ericsson EU Policy (@EricssonEU) June 21, 2022
In India, where the deployment of 5G has not yet begun, it is expected to account for almost 40 percent of all connections by the end of 2027. Globally, 5G is expected to account for almost half of all connections by the end of 2027, exceeding 4.4 billion subscribers. The latest Mobility Report and its forecasts for the future, the 22nd consecutive Ericsson Mobility Report, also shows that global data traffic on mobile networks has doubled in the last two years.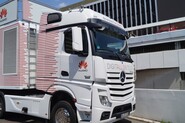 Read also
Huawei is not allowed to build 5G networks in Canada
This increase in data traffic is due to the increased popularity of smartphones and fast mobile internet, as well as the digitalisation of society and industry. Recent statistics and forecasts point to high current and projected demand for data connectivity and digital services, despite the global COVID-19 pandemic and geopolitical uncertainty. Hundreds of millions of new users connect to high-speed mobile Internet networks every year. The Ericsson Mobility Report for June 2022 also confirms that 5G is growing faster than all previous generations of mobile technology. About a quarter of the world's population currently has access to 5G coverage. In the first quarter of 2022 alone, about 70 million new 5G connections were added. By 2027, according to the Ericsson Mobility Report, the 5G connection will be available to about three-quarters of the world's people.
Fredrik Jejdling, Executive Vice President and Chief Network Officer of Ericsson, states:The latest Ericsson Mobility Report confirms that 5G is the fastest growing generation of mobile technology in history, and Ericsson plays a key role in its deployment. Every day, we work with our customers and partners in our ecosystem around the world to ensure that millions of other people, businesses, industries and companies can enjoy the benefits of 5G connectivity as soon as possible.Peter Jonsson, Executive Editor of Ericsson Mobility Report, adds:The deployment of Stand Alone (SA) 5G networks is on the rise in many regions, and communications service providers are paving the way for further innovation to help them take advantage of the business opportunities offered by enhanced mobile broadband. Businesses that are planning a digital transformation need to rely on a reliable digital network infrastructure, and their new capabilities can be transformed into new customer services."
The report also draws attention to the increasingly important role that Fixed Wireless Access (FWA) technology plays in the provision of broadband services. Ericsson expects the number of FWA connections to exceed 100 million in 2022, and by 2027 that number should more than double to almost 230 million. Regarding the Internet of Things (IoT), the report states that in 2021, IoT (4G / 5G) broadband connections outperformed 2G and 3G and became the technology used by the highest number of all IoT devices connected to the mobile network, namely 44 percent. The use of massive IoT technologies (NB-IoT, Cat-M) increased by almost 80 percent in 2021 to almost 330 million connections. The number of IoT devices connected through these technologies should exceed 2G / 3G in 2023.