If you are watching the world of technology, you have not missed the fact that the European Union has long had a lot of connectors in its stomach needed to charge electronics, although most modern devices have fortunately reduced the amount to USB-C and Apple's proprietary Lightning connector. However, according to EU representatives, this is not enough either, and from the autumn of 2024, all charging connectors are to be unified on USB-C, which is practical for several reasons. In addition to being a double-sided connector (so you don't hit the right side, as is the case with USB-A), it is possible to transfer data through it at a very high speed and at the same time supply high power with a cable.
Here is a small revolution in our daily lives! Our proposal for a common charger for mobile phones and other devices was adopted today. No more entangled cables in our hallway drawers 😊 #DigitalEU #EndChargerChaos pic.twitter.com/hmLN5vCi2P

– Margrethe Vestager (@vestager) September 23, 2021
Since this step, the EU also promises that (within the EU) up to 11,000 tons of waste will not be generated each year. According to europa.eu, consumers should also save around 6.2 billion crowns a year by using only one power adapter for all small and medium-sized electronics. In addition to mobile phones, the directive also covers tablets, book readers, digital cameras, headphones and portable game consoles and speakers. The same fate awaits laptops, but they will have 40 months to "adapt" since the new directive enters into force (Autumn 2024).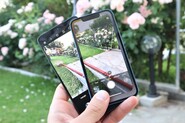 Read also
Photodel Samsung Galaxy S22 and iPhone 13 mini. Decide who takes better photos – Part 1 of the miniseries We are looking for the best compact
The agreement, which is due to be formally approved in the coming days, was preceded by protests by Apple, according to which the unification of connectors will lead to a reduction in innovation and will ultimately harm consumers. Given that Apple has not included a power adapter with iPhones for some time (but this is not the case with iPads) and is strongly pushing for MagSafe charging, it is highly likely that it may abandon wire charging as we know it by then.