Updated June 8, 2022
The sammobile.com server received exclusive information that Samsung should deploy a third memory variant in the upcoming flexible model Galaxy Z Fold4. In addition to the existing options in the form of 256 GB and 512 GB, it should also reach the more generous 1 TB. With this step, the manufacturer would meet the most demanding customers. There have been a few phones in Samsung's portfolio in history with such a large storage space, and the inclusion of the 1TB variant in the case of the most expensive Samsung ever would not be unusual.
Updated 19. 4. 2022
While last time we learned that the cameras should be improved, today, unfortunately, speculation in a similar spirit will not prevail. The Ice Universe has announced that there will be no room for an S-Pen in the body, which is a great pity and nothing will change in this respect between generations. But overall, the next generation is set to be a bit thinner and smaller, and that's certainly welcome.
Galaxy Z Fold4 will not have built-in S Pen. Fold4 will be a little smaller and thinner. This is correct. No one likes a brick.

— Ice universe (@UniverseIce) April 19, 2022
Original information from 5. 4. 2022
Samsung currently has two premium lines: Galaxy S and Galaxy Z. The latter under it combines exclusively models with flexible displays. Although these are the most expensive pieces on Samsung's offer, users have to bite into the fact that they are definitely not the best shooting pieces on the market. The current Samsung Galaxy Z Fold3 boasts, for example, a front camera hidden under the display and three main sensors, but this is not enough for the current top.
According to galaxyclub.nl, however, this smaller ailment should change this year and the upcoming Galaxy Z Fold4 should take over the cameras from the Galaxy S22 series. So far, there is talk of a 10 megapixel telephoto lens with a triple zoom, but the main sensor should be the same. The selfie camera could also be improved, especially the outdoor one, ie the one that is not hidden under the display.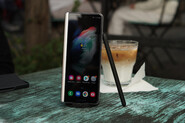 Read also
Samsung Galaxy Z Fold3 Review – Can You Resist Its Magic?
No further information is known yet and this is not surprising, as the premiere should take place at the turn of August and September this year at the earliest.