Brutal performance, small dimensions and light weight, but also an intergenerationally larger battery or space dedicated to photo equipment: the new ASUS ZenFone 9 once again attacks the flagship class with top equipment in a compact format. But will it be enough to succeed?
The ASUS ZenFone 8 can rightly be considered one of the best compact Android smartphones out there, so I was very curious to see what the Taiwanese manufacturer would come up with this year, and if it might not be completely jealous of smaller phones. Fortunately, that didn't happen, and fans of compacts can rejoice, because the ZenFone 9 has a great footing this time as well. How did you do in our test?
ASUS ZenFone 9 (REVIEW) – A small miracle
Construction
146,5 × 68,1 ×

9,1 mm

,

169 g

construction: classic, resistance: IP68
Display
AMOLED,

5,9″

(2 400 × 1 080 px)
Camera

50 Mpx

LED dioda, video: 7 680 × 4 320 px, 24 FPS
Chipset

Qualcomm Snapdragon 8 Gen1+

, GPU: Adreno 730
Memory
RAM:

16 GB

internal memory:

256 GB

memory cards:

it is

Data functions
5G:

again

LTE:

again

Wi-Fi: Wi-Fi 6E, Bluetooth: 5.2, NFC:

again

Operating system

Android 12

Accumulator

4 300 mAh

wireless charging:

it is

Availability
,

22,990 CZK
Package contents: environmental, yet (more than) full-value
ASUS goes against the grain when it comes to packaging the new ZenFon. The box contains a protective case, a power cable and a 30W adapter. The packaging is still environmental, i.e. recycled paper and glue-free, but it doesn't lack anything, which I think deserves a big thumbs up.
We liked it
including case, cable and adapter
yet it is environmental
Construction: super compact for demanding applications

At the outset, it is necessary to mention that the ZenFone 9 is still beautifully compact, or even slightly smaller (in height and width). At the same time, the weight of 169 grams has been preserved, as well as the increased IP68 resistance, so the mobile phone is not afraid of heavy rain and should even survive a fall into the pool. At the same time, the design is quite innovative. The aluminum frames are flat and on the back we find a protruding pair of cameras.
In addition, the back itself has an interesting roughened surface, which does not have a problem with fingerprints, and the phone will definitely not slip out of your hand thanks to it. Personally, I really like the flat bezels and I think this is a change for the better. I also think it's nice that this model has a capacitive fingerprint reader on the side. However, left-handed people used to the reader in the display might have a different opinion.
The reader itself, under which there is also an off button, is quite large and extremely fast. A discreet blue line distinguishes it from the rest of the body, and it also has several smart functions. By stroking it, you can, for example, update the page or download the notification roller. On the other hand, it is very sensitive, and with my holding style, I inadvertently controlled it with the part of my palm between the thumb and forefinger. This led to me pretty quickly deactivating any features assigned to swiping on the reader. On the contrary, I used the option to launch a function or application (in my case, Telegram) with a double click really a lot.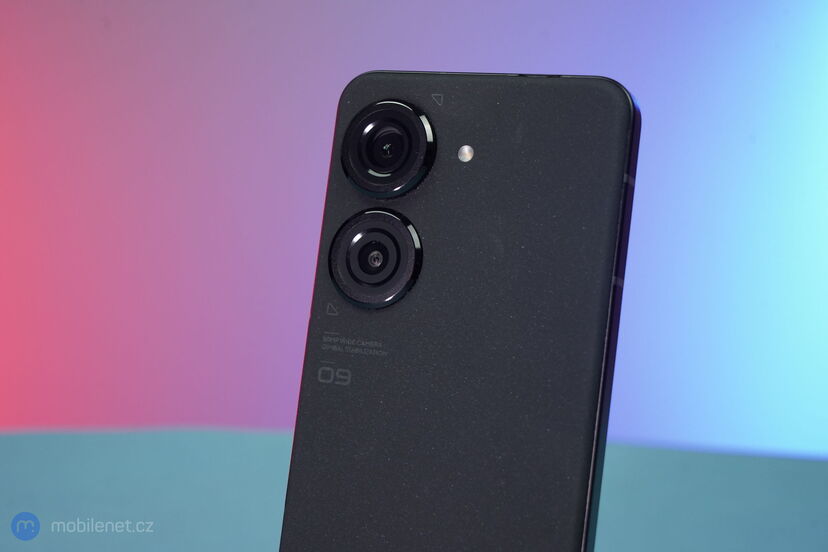 The fingerprint reader is extremely fast.
In addition to the tested black, ASUS also offers white, red and blue versions, for which I can only praise. It's great to have multiple color options to choose from. At the same time, the included protective case saved my skin once in the parking lot when I was getting out of the car and my phone fell on the concrete floor thanks to the slightly raised "corners" around the display. Last but not least, I can also praise the nicely processed haptic response, which is definitely one of the better ones, or the slot that can be fitted with a pair of nanoSIMs.
We liked it
quality workmanship
comfortable to hold
interesting processing of the back
increased IP68 resistance
great haptic response
several color variants
top fingerprint reader
We didn't like it
the clever gestures of the reader are perhaps unnecessarily sensitive
Display: beautiful and with high brightness

Apart from the fact that there is no longer a fingerprint reader, the display remains very similar to that of the ZenFon 8. It is a panel manufactured by Samsung, which offers up to a 120Hz refresh rate and the same 5.9″ diagonal with a completely sufficient Full HD+ resolution. Definitely I also praise the completely trouble-free maximum brightness of up to 1,100 nits and the Gorilla Glass Victus protection. I also really like that the display is just rounded, or rather not the display itself but rather the glass that covers it. Compared to the Galaxy S22, however, you can notice for example thicker chins (frame below) and it's also not an LTPO panel.
The absence of LTPO technology is actually a bit of a shame, because the possibility to reduce the frequency to perhaps 1 Hz would benefit this device (as well as all others). I was surprised when I activated the developer options and the phone used a 90Hz frequency even with the Always-On mode running, where it would make sense to drop to at least 60Hz. I assume an update will fix this though. By the way, Always-On has already been completely replaced by the notification diode that ZenFone 8 had, which will probably outrage old-timers, but subjectively I don't see it as a big problem.
We liked it
quality 120Hz Super AMOLED
high maximum brightness
Gorilla Glass Protection
pleasantly rounded edges
Sound: superb even in a small body

The other thing that has remained besides the display is the 3.5 mm jack with a quality amplifier (Qualcomm Aqstic DAC) and stereo speakers, which play simply fantastically and easily surpass even significantly larger smartphones. The bass component is also above average, which most smartphones lack. The company Dirac also contributed to the sound, and in cooperation with ASUS, it also prepared a well-crafted advanced equalizer for users.
We liked it
quality stereo sound
3,5mm jack
Hardware performance: only the best

The great display and speakers encourage you to play games, which will definitely not be a problem thanks to the chipset used. Snapdragon 8+ Gen1 is the same processor that the latest ROG Phone has, which means that you have enough performance with this smartphone for many years to come. However, it is more important to mention that the cooling is very well solved, which is completely redesigned and uses a copper and graphite plate + a larger amount of heat-dissipating paste for heat dissipation. Even though it is a smaller mobile, the cooling works very well, which is also confirmed by the Game Genie temperature indicator while playing Call of Duty, when even in the current hellish heat (around 30 degrees Celsius), I usually hovered around 40 degrees Celsius. The top performance is also confirmed by the benchmark results, while the phone can be purchased with up to 16 GB of LPPDR5 RAM and 256 GB of UFS 3.1 storage (without memory card support).
We didn't like it
256GB might not be enough for someone
Battery life: no problems
However, in addition to the performance, the battery capacity has also increased. 4,300 mAh is already a very decent value considering the dimensions, and I really reliably managed one day of use with the phone, while the 30W charging is quite fast and you have enough energy for the next day of use in about an hour. I also really like the detailed charging options, such as limiting the charge to a maximum of 80%, which saves the battery in terms of cell life. The only ailment is again the lack of wireless charging, but ASUS has long established the philosophy that it is better to have a larger battery than a combination of a coil for wireless charging and a smaller battery. Whether this is the right consideration is up to you, but personally I would welcome wireless charging.
We liked it
very good staying power
wide range of charging settings
We didn't like it
without wireless charging
Connectivity: complete

The mobile phone supports Wi-Fi 6e, Bluetooth 5.2, GPS, GLONASS, BeiDou, QZSS, NavIC and European Galileo. It goes without saying that 5G is supported on both SIM cards or NFC for contactless payment or quick pairing. The only thing missing is probably only UWB, which currently does not have many possibilities of use.
Camera: bigger and better
Since this is the flagship of ASUS, the manufacturer took care and installed a 50 Mpx Sony IMX766 sensor with phase focus and six-axis hybrid stabilization, which is obviously quite prominent precisely because of stabilization. We also have a 12MP Sony IMX363 ultra-wide-angle lens, which also has dual phase focus, so it also works as a macro, with the focus distance starting at around 6cm. And finally, the 12 Mpx selfie camera Sony IMX663, which also pleases with automatic phase focusing.
With this photo equipment, you can take very nice pictures both during the day and at night. They have a lot of detail, but in places they are perhaps a little unnecessarily digitally oversharpened. Also, the HDR setting is not always ideal, so the sky is unnecessarily burnt out. Otherwise, however, it is a capable camera that can quickly focus and usually set the exposure correctly. It also has no problem shooting up to 8K video or using the already mentioned six-axis stabilization, which I tested during a short run with the dog and I have to say that it works very well for holding the phone with one shaky hand. The night mode is also solid, which can brighten up the shot nicely and at the same time preserve quite a lot of details.
ASUS ZenFone 4K 30 FPS
ASUS ZenFone 8K 24 FPS
ASUS ZenFone Full HD 30 FPS HyperSteady 6-axis stabilization
We liked it
six-axis stabilization
all sensors have automatic focus
possibility to use the ultra-wide-angle lens also as a capable macro
mostly quality images
We didn't like it
HDR has gaps
unnecessarily digitally oversharpened in places
Software: pure Android and ZenUI
Like the ZenFone 8, the ZenFone 9 also uses basically pure Android 12 with a smaller superstructure from ASUS. In addition to the game Game Genie, ZenUI brings the ability to adjust the animation speed, the previously mentioned settings for the fingerprint reader or gestures to save the print screen, or the ability to tap on the back and assign a function to it. During development, maximum emphasis was placed on the agility of the system, which clearly succeeded.
In the area of ​​software support, ASUS unfortunately does not guarantee a specific length of support (unlike, for example, Samsung), whether it is OS updates or security patches. The manufacturer refers to the unpredictability of Google's implementation requirements, while according to him it is fairer to not guarantee anything to customers. However, I can confirm from my own experience that updates to the ZenFone 8 were frequent and Android 12 appeared relatively early on the phone.
We liked it
the vibrancy of the environment
latest android 12
We didn't like it
without a guarantee of a specific length of SW support
Evaluation
The ASUS ZenFone 9 is indeed a great successor to the previous model, which brings reliable one-day endurance, better photo equipment, more brutal performance and, in my opinion, a more stylish design. Loud speakers and a 3.5 mm jack are also great. Less pleasing is the absence of an LTPO display panel or wireless charging, which, however, is partially compensated for by the phone's longer endurance.
Competition
The Galaxy S22 offers similar equipment, which is better in terms of display or wireless charging support, but worse when it comes to battery size and performance. Some may also prefer an in-display ultrasonic fingerprint reader. However, 3.5mm is missing, as is the six-axis stabilization of the primary camera.
Samsung Galaxy S22 256+8 GB
Dimensions
146 × 70,6 ×

7,6 mm

,

168 g

Display
AMOLED,

6,1″

(2 340 × 1 080 px)
Camera

50 Mpx

video: 7 680 × 4 320 px, 24 FPS
Processor

Samsung Exynos 2200

,
Memory
RAM:

8 GB

repository:

256 GB

,

it is

Accumulator

3 700 mAh
If size and weight are the number one priority for you and you are satisfied with only a 60Hz display, a large part of which is taken up by the cutout, give the iPhone 13 mini a chance.
Apple iPhone 13 mini 128 GB
Dimensions
131,5 × 64,2 ×

7,7 mm

,

140 g

Display
OLED,

5,4″

(2 340 × 1 080 px)
Camera

12 Mpx

video: 3 840 × 2 160 px, 60 FPS
Processor

Apple A15 Bionic

,
Memory
RAM:

4 GB

repository:

128 GB

,

it is

Accumulator

2 438 mAh
Photo: Ioannis Papadopoulos, mobilenet.cz