While in our market a two-year warranty is common for devices purchased by the consumer (as in other EU countries), in the USA, the manufacturer is legally required to provide only a one-year warranty period. In Apple's case, this warranty is vaguely referred to as AppleCare, is transferable, and covers defects not caused by the user. However, if customers want to pay extra for a sense of security and, if necessary, a less expensive repair directly caused by the user, they can use the AppleCare+ service, or "AppleCare+ with Theft and Loss coverage", i.e. including insurance against theft and loss. Now these enhanced guarantees are coming to three new European countries – France, Italy and Spain.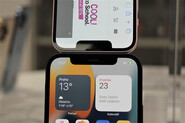 Read also
Apple intends to save. They will use older types of AMOLED displays from Samsung in the iPhone 14
And what exactly can AppleCare+ protect consumers in the given regions from? Let's start with the price of the service itself, which in the case of iPhone 13 Pro and 13 Pro Max is 229 euros, i.e. roughly 5,700 CZK one-time for a period of two years, or 11.49 euros per month (roughly 285 crowns). Below you can see the complete price table for all supported iPhone models.
AppleCare+

However, AppleCare+ with Theft and Loss coverage is also available, which in addition to accidental damage also protects against theft or loss of the device. This improved version of AppleCare+ can be demonstrated with an example available on macrumors.com. If the iPhone 13 Pro Max is lost or stolen and the customer uses AppleCare+ with Theft and Loss coverage, he can request a refund for a fee of 129 euros (approx. 3,200 crowns) instead of having to pay the full price corresponding to approximately ten times the aforementioned fee. Insurance in all countries is provided by AIG and you can read the full terms and conditions at apple.com.
AppleCare+ with Theft and Loss coverage

| Model | for 1 year (monthly payment) | for 2 years |
| --- | --- | --- |
| iPhone 13 Pro | €14.49 (~ CZK 360) | €289 (~ CZK 7,100) |
| iPhone 13 Pro Max | 14,49 € | 289 € |
| iPhone 13 | €11.49 (~ CZK 285) | €229 (~ CZK 5,700) |
| iPhone 13 mini | 11,49 € | 229 € |
| iPhone 12 | 11,49 € | 229 € |
| iPhone 12 mini | 11,49 € | 229 € |
| iPhone 11 | 11,49 € | 229 € |
| iPhone SE (2022) | €7.49 (~ CZK 185) | €149 (~ CZK 3,700) |