One of the biggest innovations of the new Galaxy Z Flip4 is undoubtedly the 400 mAh larger battery, while the weight has increased by only 4 grams and the dimensions have even shrunk a bit. The manufacturer managed to come up with a modified hinge, and due to the deployment of the energy-efficient Snapdragon 8+ Gen1 processor, this should mean much longer endurance. This is exactly what the editors of phonearena.com decided to test, who compared the durability of the Z Flip4 compared to last year's Z Flip3. How did the novelty with a 12% larger total battery capacity do?
For testing purposes, two fairly simple tests were chosen – but above all, the conditions were unified, i.e., for example, that the phone displays were set to the same brightness level. Both devices were also connected to the same Wi-Fi and subsequently underwent a test of using an Internet browser in the form of a running script, followed by watching YouTube videos in a dedicated application. The result in the case of using the Internet browser ended unsurprisingly in favor of the Z Flip4, which managed to function like this for 11:40 hours, while the Z Flip3 only lasted 10:13 hours. The difference of an hour and a half then corresponds to roughly a 14% increase in endurance (700 vs. 613 minutes)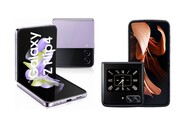 Read also
Samsung Galaxy Z Flip4 vs. Motorola Razr 2022: which new product has better equipment?
To watch YouTube videos, the same video playlist was launched on both smartphones and the test was again started with fully charged clamshells. The Z Flip3 subsequently managed to play videos for 7 hours and 10 minutes, while the Z Flip4 only shut down after 9 hours and 45 minutes. This is a 36% longer video viewing time.
Even such a simple test confirms the markedly better endurance of the Z Flip 4 compared to the previous generation. A big advantage is also the higher charging power, which has increased from 15 to 25 W wired, the wireless charging power has remained the same, i.e. 10 W. You can already look forward to our detailed review, an article focused on endurance and charging, but also a photo test focused on deteriorated lighting conditions.

Where to buy most advantageously
Samsung Galaxy Z Flip3 128 GB
Samsung Galaxy Z Flip4 256 GB
Dimensions
84,9 × 71,9 ×

17,1 mm

,

187 g

Display
Super AMOLED,

6,7″

(2 640 × 1 080 px)
Camera

12 Mpx

video: 3 840 × 2 160 px, 60 FPS
Processor

Qualcomm Snapdragon 8 Gen1+

,
Memory
RAM:

8 GB

repository:

256 GB

,

it is

Accumulator

3 700 mAh
Samsung Galaxy Z Flip3 128 GB
Dimensions
86,4 × 72,2 ×

17,1 mm

,

183 g

Display
Super AMOLED,

6,7″

(2 640 × 1 080 px)
Camera

12 Mpx

video: 3 840 × 2 160 px, 60 FPS
Processor

Qualcomm Snapdragon 888

,

1×2,84 GHz + 3×2,4 GHz + 4×1,8 GHz

Memory
RAM:

8 GB

repository:

128 GB

,

it is

Accumulator

3 300 mAh