A newcomer to the market is the Nothing brand with its Phone (1), which is also sold on the Czech market. The main attraction is not only the interesting equipment, but above all the original appearance, where the back side is dotted with differently shaped LEDs. It doesn't seem like it will stay with one phone for too long, according to themobileindian.com, which talks about the Nothing Phone (1) Lite, a sort of lightweight version.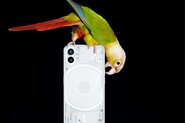 Read also
Nothing Phone (1) gets first update. It is supposed to solve minor problems
It can be expected that the equipment will have to be trimmed down a bit. A smaller shock, however, is that the savings should affect the attractive diodes, they are supposed to disappear completely from the back, which would certainly be a shame. The Lite version is also supposed to lack wireless charging, which is understandable. In contrast, there should be an increase in the battery, which will probably use the space created after the diodes and the wireless charging coil. Charging should be supported with a maximum power of 33 W. However, we still have to wait for confirmation of any concessions and other information.