There are countless phones with increased durability on the market. However, there are significantly fewer really durable ones, and finding a highly durable phone with good equipment is often an impossible task. The new Samsung Galaxy Xcover6 Pro will try to fill a hole in the market, which is definitely not made of sugar and its equipment tries to make your life more pleasant. However, the price of 15 thousand crowns may give you wrinkles.
Samsung always refreshes its armored phones in the XCover series after some time. This year, it was the turn of a better equipped line with the epithet Pro in the name. We have seen the Samsung Galaxy XCover6 Pro, which should satisfy even slightly more demanding users with its equipment. It has a large display, Snapdragon 778G, a dual rear camera or a reliable software side. However, it must be said that the mobile is quite specifically targeted, for example for corporate clients.
Construction
168,8 × 79,9 ×

9,9 mm

,

235 g

design: classic, resistance: IP68 / MIL-810G
Display
TFT IPS,

6,6″

(2 400 × 1 080 px)
Camera

50 Mpx

LED dioda, video: 1 920 × 1 080 px, 30 FPS
Chipset

Qualcomm Snapdragon 778G

CPU:

1×2,4 GHz + 3×2,2 GHz + 4×1,9 GHz

GPU: Adreno 642L
Memory
RAM:

6 GB

internal memory:

128 GB

memory cards: microSDXC
Data functions
5G:

again

LTE:

again

Wi-Fi: Wi-Fi 6E, Bluetooth: 5.2, NFC:

again

Operating system

Android 12

Accumulator

4 050 mAh

wireless charging:

it is

Availability
July 2022,

14,999 CZK
Samsung Galaxy XCover6 Pro – videorecenze
Package contents: modesty rules here
The ecological trend has also arrived among durable phones, so even at first glance the sales package is atypically small. You won't find much in it. In addition to the phone itself, only the USB-C cable, even the charging adapter is missing.
Structural processing: robustness above all

The first look will definitely confirm that you have the honor of a durable Samsung. The manufacturer maintains its design, where the black color is complemented by stylish red accessories, for example around the buttons or cameras on the back. The phone has a massive frame that is rubberized, the back is plastic with a non-slip surface. It is not surprising that the MIL STD-810G military standard is met, so the phone can handle falls from a height, while nothing major should happen to it. Water and dust are not a problem either, IP68 certification is met.
Durability is also ensured through the removable back cover. You will have to remove it every time you want to insert a nano SIM card or memory card. Likewise, if you happen to want to replace the battery. Yes, the battery is user replaceable.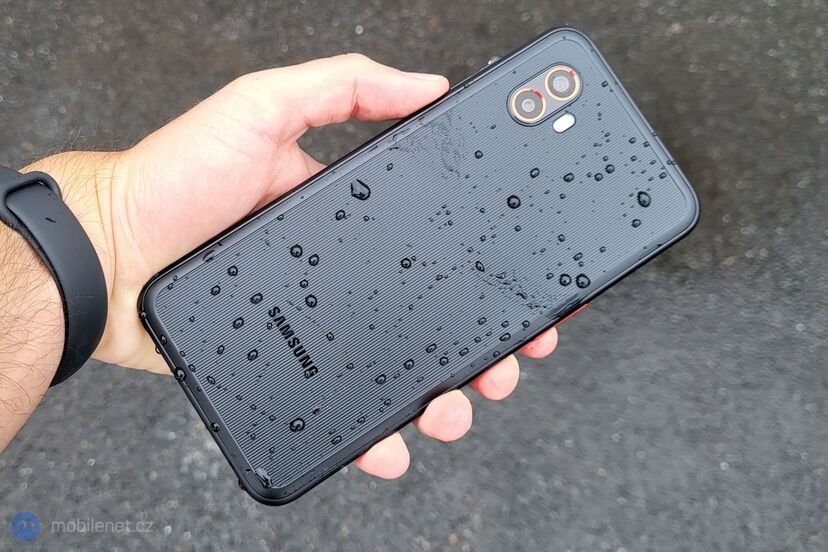 The phone is already quite large and wide, it does not fit in smaller hands. However, if you already grab it, you will definitely be sure that you are holding it firmly, it does not slip. The set of buttons on the sides helps to solve the control. The upper key is fixed to quickly start the flashlight. Unfortunately, having an unlocked phone is a requirement. On the left side there is a huge XCover key that can be assigned two functions, for short and long press. Any installed application can be launched, but for example you can also assign the Back or Home function to the button. For left-handed people, it can be a great solution to control the phone with one hand.
It remains to mention the buttons on the right side. This is used to control the volume or unlock the mobile phone. It also has a well-functioning fingerprint reader.
We liked it
non-slip surface
high resistance
We didn't like it
larger dimensions
does not fit smaller hands
Display: did not get to AMOLED

The display is much discussed in rugged phones. In this case, it is also large, it is 6.6″. Fortunately, it is protected by modern Gorilla Glass Victus+, so the display should not suffer from scratches. In addition, it is also slightly recessed. Unfortunately, it is only an IPS panel, which has a negative effect on readability in bright sunlight.The impression is partially saved by the Full HD+ resolution and 120Hz refresh rate.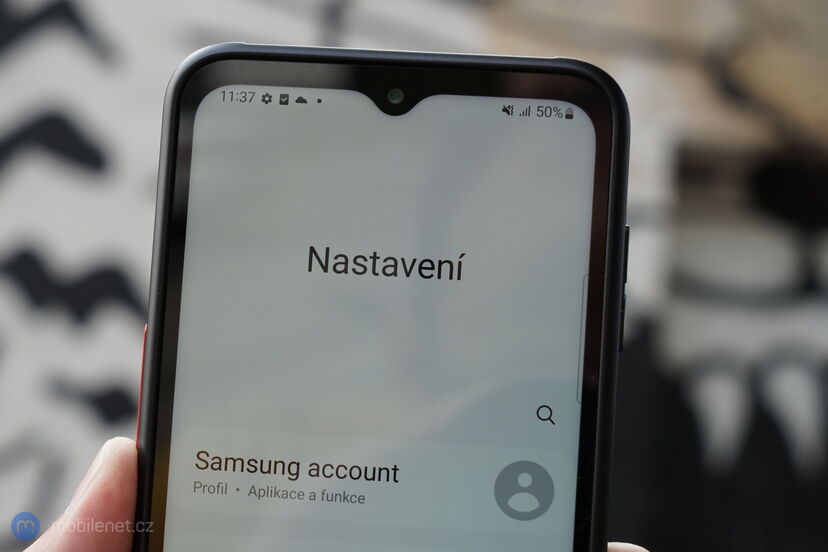 As it is not an AMOLED panel, it is not surprising that the Always-On mode is missing. A small patch is the fact that it got on the information diode, which is located on the upper edge and can flash quite significantly in case of missed notifications.
We liked it
120 Hz
the display is recessed
We didn't like it
an AMOLED panel would be more suitable
Always-On is missing
Sound: classic with jack

There was not a lot of emphasis on music and there is one speaker that is loud, so you definitely won't hear the ringtone. Somewhat surprisingly, there is a 3.5 mm jack, so connecting older headphones will not be a problem.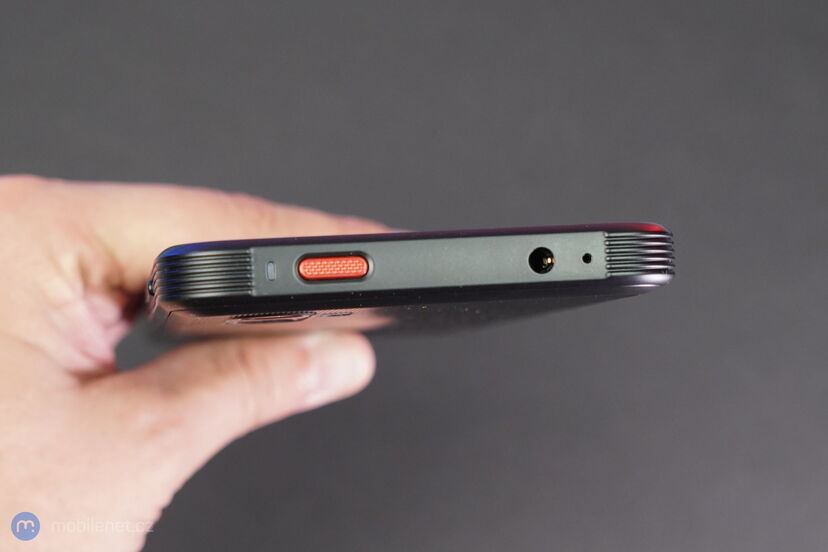 Hardware performance: a decent deal

You will be satisfied with the performance, Samsung went for a very solid Snapdragon 778G, which means, among other things, 5G support. 6 GB of RAM is sufficient, as is 128 GB of storage, which can also be easily expanded with a memory card. So the phone has enough performance, even for playing games, if you happen to be caught up in a long moment.
We liked it
decent processor
supports memory sticks
Battery life: the capacity does not dazzle
We've already had a little taste of the battery, we know it's replaceable, which is good. It won't impress you with its capacity, 4,050 mAh really won't do too much, and don't count on more than one day. If you are going to use your phone outside of civilization, you cannot avoid buying a spare battery or power bank. Charging is only possible with a basic power of 15 W via cable, but you must have a charger, there is none in the box. There is no wireless charging.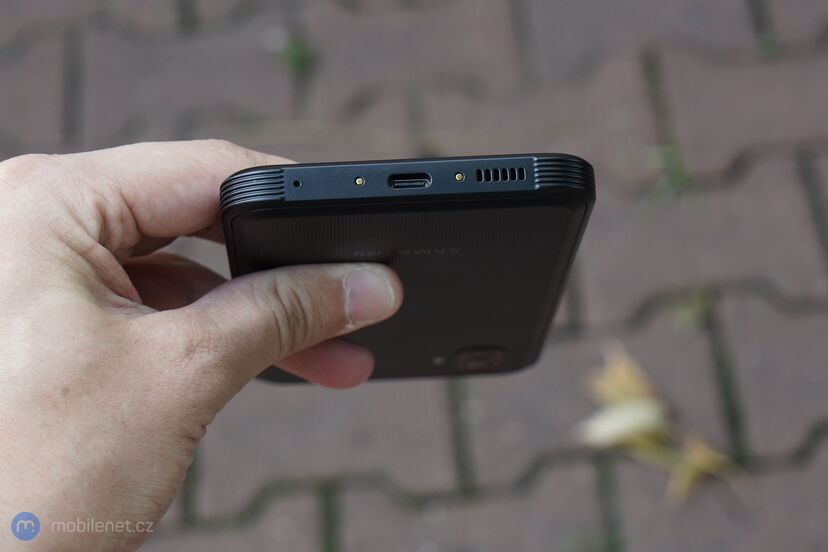 We didn't like it
very slow charging
wireless charging is missing
poor stamina
Connectivity: including 5G

The phone received full-fledged connectivity. You can look forward to fast data support in the 5G network. It also got Wi-Fi 6E and Bluetooth 5.1 or NFC. When roaming the world, you can rely on GPS, GLONASS and BeiDou. Locating your location takes a few seconds.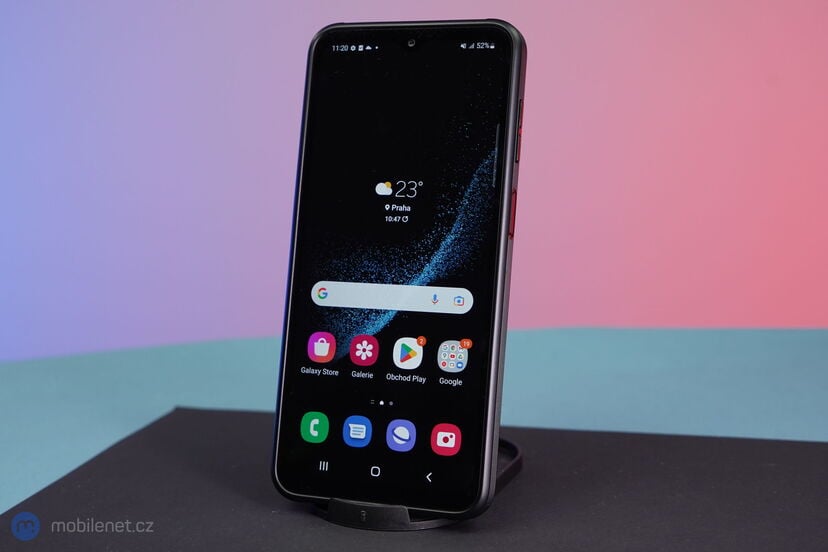 Camera: ready for the basics
There are two cameras on the back, but it can be seen that they were not particularly important for Samsung this time. The main 50-megapixel sensor is reliable and takes decent pictures in good light, about as good as a mid-range phone. However, as the light fades, noise and poorer sharpness take over.
The second camera is an 8-megapixel ultra-wide-angle lens, which has a nice shot, but the resolution is only sufficient for less demanding photographers. The edges of the landscapes are already visibly merging.
The list ends with a front 13-megapixel camera, which is sufficient for basic selfies and the quality is passable for sharing via social networks.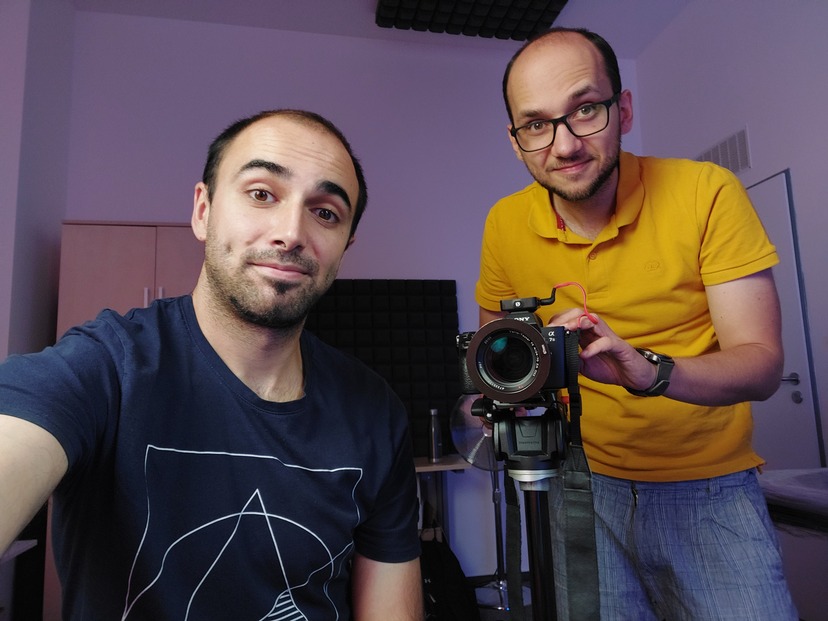 Video recording is possible up to 4K quality, but you have to forget about 60 frames per second. Videos are more of an emergency.
We liked it
decent pictures in daylight
Software: an example for others
As for the environment, it is a classic Samsung, i.e. imaginary certainty and proven quality. This time in the form of Android 12 and the One UI 4.1 superstructure. By the way, don't worry about security, the phone has August patches and updates should come every month. The optimization of the environment is exemplary and the phone works great.
We liked it
clear environment
latest patches
Evaluation
As we said at the beginning, there are few truly durable phones, even fewer decently equipped ones, and even fewer that look like a normal mobile phone at the same time. However, the Galaxy Xcover6 pro meets these conditions. It has a large display, a good processor and a decent main camera. It does not lack 5G support and can handle demanding conditions at the same time. The only thing that freezes is the absence of an AMOLED panel. Considering the price of almost 15,000 crowns, Samsung could have slightly improved the equipment. Again, we must add that the phone is not primarily aimed at ordinary users, which is a bit of a shame. A better equipped and seriously durable phone is missing on the market.
Competition
There are currently not many competitors on the Czech market. If you stick to 5G, you can consider the CAT S53, which is cheaper, but has a weaker processor and a worse display.
CAT S53
Dimensions
? × ? ×

? mm

,

? g

Display
TFT IPS,

6,5″

(1 600 × 720 px)
Camera

48 Mpx

video: 1 920 × 1 080 px, 30 FPS
Processor

Qualcomm Snapdragon 480

,

2×200 MHz + 6×1,8 GHz

Memory
RAM:

6 GB

repository:

128 GB

microSDHC
Accumulator

5 500 mAh
If you want 5G, you can have the Nokia XR20, which will cost you around 13,000 crowns, is similarly durable and has wireless charging on top.
Nokia XR20 128+6 GB
Dimensions
171,6 × 81,5 ×

10,6 mm

,

248 g

Display
TFT IPS,

6,67″

(2 400 × 1 080 px)
Camera

48 Mpx

Processor

Qualcomm Snapdragon 480

,

2×2 GHz + 6×1,8 GHz

Memory
RAM:

6 GB

repository:

128 GB

microSDXC
Accumulator

4 630 mAh
Photo: Petr Vojtěch, mobilenet.cz