T-Mobile announced "Coverage Above and Beyond" at an event hosted by T-Mobile CEO Mike Sievert and Elon Musk. This would allow phones to connect to satellites and achieve connection speeds of 2 to 4 Mbps. However, the speed is shared for all phones in the area.
In practice, this means that this connection should be enough to allow you to text, send MMS and even use select messaging apps whenever you have a clear view of the sky, even if no traditional service is available. According to American T-Mobile, its customers will be able to use the service everywhere in the continental US, Hawaii, parts of Alaska, Puerto Rico and territorial waters. A beta test will begin in selected areas before the end of next year, and over time the service could also be extended to include data transmissions.
Note, connectivity will be 2 to 4 Mbits per cell zone, so will work great for texting & voice calls, but not high bandwidth

— Elon Musk (@elonmusk) August 26, 2022
According to Musk, the second-generation Starlink satellites that will launch next year will be able to broadcast the service using some of T-Mobile's spectrum in the mid-range PCS band, which was boosted when it bought Sprint a few years ago. Musk said the new satellites have large antennas 5 to 6 meters in diameter that will enable a new kind of connectivity. Operators of services like WhatsApp or iMessage will have to work with T-Mobile to make their products work over a satellite connection. According to the first information, this will be limited only to places without standard coverage and it may happen that access to satellites is not continuous in time: however, you should not wait more than 30 minutes for a message or its sending.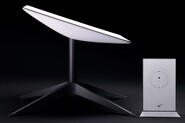 Read also
Starlink fundamentally reduces prices for the Czechia
Information about prices is rather vague. The service should be part of higher tariffs, or available for a monthly fee. The service would allegedly be financially accessible even for those who use cheaper tariffs. For comparison, the similar InReach system offered by Garmin for emergency communication is suitable. There, you can access the Iridium satellite network for a monthly fee of 15 to 65 dollars (approx. 400 to 2,000 crowns with tax).
The good news, however, is that no additional hardware will be required to access the satellite connection, the service should also run on existing phones designed for the US T-Mobile network. Elon Musk, in turn, said that he is going to negotiate with other operators around the world so that a similar service can appear in them over time.