In addition to effective cooling and a comfortable keyboard, the unmissable equipment of top gaming laptops also includes a powerful processor and a graphics card that manages to work smartly based on the needs of the user. A great example are extremely powerful gaming laptops with graphics cards from the renowned manufacturer NVIDIA, which use the latest fourth generation Max-Q technology.
Optimizing performance, energy consumption and cooling noise

Thanks to Max-Q, laptops equipped in this way are able to improve the cooperation between GPU and CPU to a new level, for example bringing energy savings of up to 70%, which can literally be a "game-changer" in the case of laptops. Available on more than 160 new GeForce RTX 30 Series notebooks (including the new GeForce RTX 3080 Ti and 3070 Ti, of course), Max-Q technology uses artificial intelligence to dynamically shift power between the processor and graphics unit. Rapid Core Scaling and CPU Optimizer technologies will ensure the highest possible clock rate of the selected cores, or the optimization of performance and temperature.
In other words, modern GPUs from NVIDIA are able to control the processor to some extent. No less practical is WhisperMode, which, with the help of AI, adjusts the volume of the active cooling, which will not be unnecessarily noisy, but the laptop will still have as much performance as possible.
GeForce RTX 3080 Ti for the most demanding

The most demanding will reach for one of the laptops with a GeForce RTX 3080 Ti GPU (currently the most powerful laptop gaming GPU) using 16 GB of GDDR6 memory. It can easily cope with Ray Tracing or games with a resolution of 2560 x 1440 pixels running at maximum detail with more than 60 FPS for the smoothest possible experience without image tearing. For supported game titles, thanks to NVIDIA DLSS technology, it is then possible to increase the FPS sufficiently even for 144Hz monitors, for example, but if the player is content with 60 FPS, the number of frames per second can be capped at a given level and using DLSS to save performance, which also reduces operational noise, temperature and energy consumption, which results in longer endurance.
Lovers of fast-paced action games will also appreciate the G-SYNC support, which can be further enhanced with NVIDIA Reflex. Individual images are thus rendered at exactly the right moment and there is no need to worry about any tearing of the image.
Not only for gamers, but also for creatives

Notebooks with the aforementioned GPUs are a great choice not only for gamers, but also for creatives who need high performance for their work, whether it is video rendering or the use of other demanding graphics programs, etc. The ideal choice is to choose one of the notebooks compatible with NVIDIA Studio, which have these GPUs, can thus offer hardware acceleration of Ray Tracing, AI, but also the possibility to rely on NVIDIA Omniverse or fundamentally faster rendering, see the attached graph.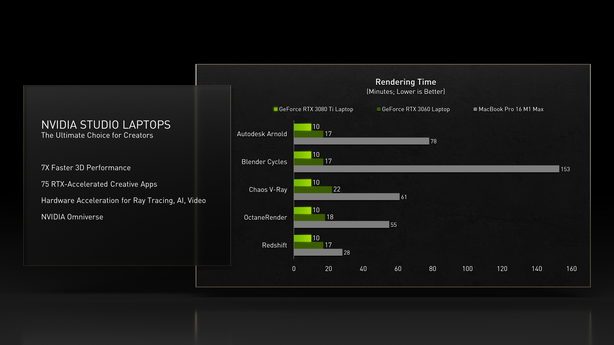 You can find a wide range of high-end notebooks with GeForce RTX at CZC.cz.