Did you want something exclusive? You have to have it! Today we will compete for TCL NXTWEAR G glasses, which can do wonders. Enjoy breathtaking cinema-like visual experiences, even when you're on board a plane or resting in bed. Just put on the TCL NXTWEAR G smart glasses, which contain two Sony micro OLED displays with Full HD resolution. Thanks to this, you get a quality image that is equivalent to watching a huge screen with a diagonal of 140 inches and an aspect ratio of 16:9 from a distance of about 4 meters.
Win top-of-the-line TCL NXTWEAR G glasses
Just connect TCL NXTWEAR G to your mobile phone, tablet or laptop with DisplayPort support. Stereo speakers with rich sound enhance the viewing experience. With TCL NXTWEAR G glasses, you can always peripherally monitor what is happening around you. So you can fully concentrate on the content in front of your eyes, but you will never lose contact with the world around you. You can check your fingers typing on the keyboard by just looking down, and on the plane you can simply order a drink from the attendant without having to interrupt your movie. The intelligent display constantly monitors your movements and optimizes the projected content so that you can enjoy it in maximum quality at all times.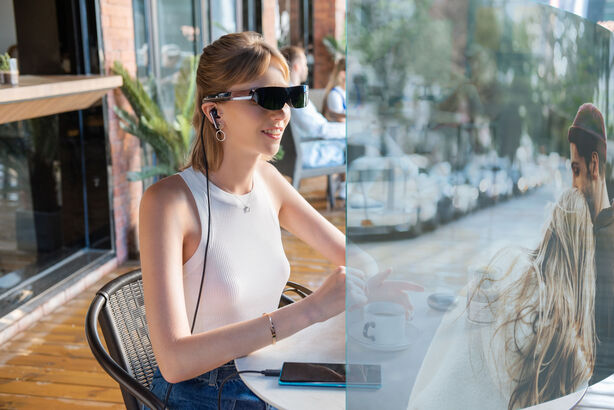 The TCL NXTWEAR G glasses attract attention with their luxurious frameless design with a weight of only 130 grams including the cable. Even when worn for several hours, you are guaranteed maximum comfort. Carefully selected materials on the inside of the frame – soft nylon and silica gel – ensure comfort and are gentle on the skin. Thanks to the foldable design, TCL NXTWEAR G can be easily stored in a protective case and taken anywhere, easily even in a small backpack or purse. The smart glasses do not need to be charged, because they are powered directly from the connected device. In addition to three beams of different sizes, the package also includes lens frames that you can have custom made if you wear glasses.
How to play and win?
It's easy, as always. Just answer the competition question and fill in your contact details. The competition is ongoing from 8/16/2022 8:00 p.m. to 8/29/2022 11:59 p.m. After that, we will end the competition and evaluate it.
In order not to miss any news, we recommend following our Instagram. Don't forget to also read the complete competition rules of the mobilenet.cz server, which you can find here.
Competition form
If you do not see the competition form, or if it is displayed incorrectly, use this link.
Don't miss any news! Follow mobilenet.cz on Facebook, Twitter and Instagram!