In the Czech Republic, the official price of the iPhone 14 Pro in the basic version with 128GB storage is CZK 33,490. Although the price on the domestic American market is "only" 999 US dollars (ie roughly 25 thousand crowns), it is worth remembering that this is a net price valid only for four American states with 0% sales tax.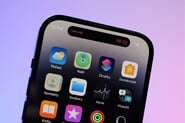 Read also
Why did the iPhone 14 Pro's Dynamic Island leave us with embarrassed impressions? – First impressions including video
According to the latest data from the Czech Statistical Office, the average gross salary in the Czech Republic is CZK 40,086 (the net amount is CZK 32,231). This means that the average Czech has to work 21.8 days to be able to afford the new iPhone 14 Pro, assuming that he saves all his earned money for this purchase. Compared to the result of the previous year, the number of required days increased by 0.4 days.
This is how the iPhone Index looked in the Czech Republic over the past 5 years:

2018 – 26.2 days
2019 – 25.2 days
2020 – 24.5 days
2021 – 21.4 days
2022 – 21.8 days
According to the statistics, people in Switzerland make money on iPhones the fastest – they only need 4.6 days to do it. The average American needs to work 5.7 days and an Australian – 6.1 days to earn this novelty.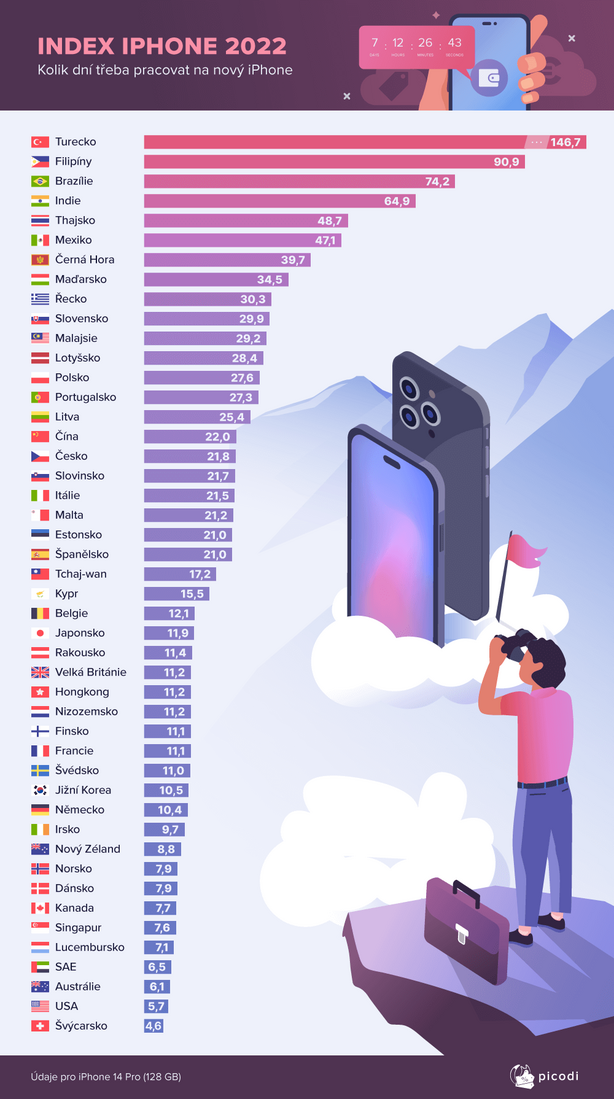 The worst results of all the surveyed countries were achieved by Turkey, where an iPhone corresponds to 146.7 working days. The Philippines and Brazil were also at the bottom of the list – 90.9 and 74.2 days respectively.
Methodology and resources

The iPhone Index is an annual ratio of the price of an iPhone to the average salary, conducted by Picodi.com since 2018. The iPhone Index 2022 was calculated based on the official prices of the iPhone 14 Pro (version with 128 GB storage) presented either by Apple branches or authorized resellers. The average wages were taken from the official websites of the statistical offices of the countries surveyed and are compared to iPhone prices published in each country. Net wages were obtained through wage calculators. Monthly wages were divided by 21 – the average number of working days in a month. In countries where statistical offices use weekly rates, wages were divided by 5.
Apple iPhone 14 Pro 128 GB
Dimensions
147,5 × 71,5 ×

7,9 mm

,

206 g

Display
OLED,

6,1″

(2 556 × 1 179 px)
Camera

48 Mpx

video: 3 840 × 2 160 px, 60 FPS
Processor

Apple A16 Bionic

,
Memory
RAM:

6 GB

repository:

128 GB

,

it is

Accumulator

3 200 mAh