---
The Samsung Galaxy Z Fold 4 hasn't been on the market very long, but the prices are already going crazy. The first dealers want more than 500 euros less for the folding cell phone. If you didn't strike at the beginning, you can now save a lot.
Samsung Galaxy Z Fold 4 in price drop
Samsung launched the Galaxy Z Fold 4 on August 26, 2022, starting at €1,799. After a short time you don't have to pay this price. The first dealers charge significantly less. You can get it on eBay with a discount code for only 1,289 euros (look at eBay). That's over 500 euros less than from Samsung directly or other large retailers.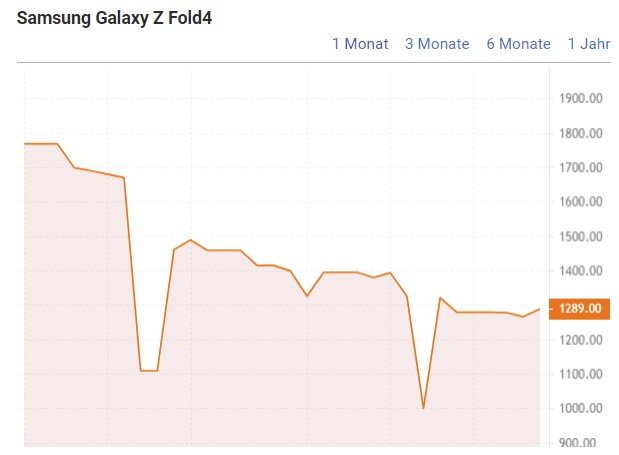 Well-known and large dealers like Amazon or MediaMarkt, on the other hand, charge the full price of 1,799 euros. It should take some time before really big discounts appear there. Just like the predecessor, the price should drop significantly in the foreseeable future.
What makes the Samsung Galaxy Z Fold 4 so special?
Samsung has that Galaxy Z Fold 4 has only been improved in a few places compared to its predecessor, because the Galaxy Z Fold 3 (test) was already a very good folding cell phone. One of the most striking changes is the external display, which is now a little more reminiscent of a classic smartphone, but is still very elongated. The under-display camera on the inside is no longer as noticeable and the smartphone has become a bit more angular. Overall, however, it continues to follow the concept that you get a good mix of smartphone and tablet.
With the Galaxy Z Fold 4, Samsung is also using Android 12L for the first time, which Google developed specifically for devices with large or foldable displays. Multitasking is now much better with the taskbar. Overall, the foldable phone has matured and has been improved in some places. Compared to its predecessor, however, it is only an evolution.